Any fan of Rock 'n' Roll needs to know it. Reverend Beat-Man, has for over 30 years at the head of one of the best the genre label, Voodoo Rhythm Records (King Automatic, Hipbone Slim,King Khan & His Shrines or Dead Brothers), but also author in solo and group (within theMonsters) a whole lot of albums. Meeting with the Swiss Beat Zeller Man, aka Reverend Beat-Man and Lightning Beat-Man, a passionate musician and vinyl junkie.
Dear Reverend, when one takes a look at your biography on Wikipedia, you learn that you started recording your music just thirty years. So what did you do during the first thirty years of your life?
Beat-Man: No it is WRONG! Do not trust the net haha! In fact I started recording at age thirteen. I was a kid a little weird and my father gave me a guitar. At the time there were no computers orFacebook suddenly I started to make music and record it.

I released over 50 records since '87.
What happened in your life to make you should say, 'I want to live the Rock' n 'Roll?
Basically I wanted to be designer of comics. But in '81 I came across a concert of Motörhead and Iron Maiden to the TV (on the show Musik Laden) and there, I knew what I wanted to do. My parents hated it, and I took my foot, I had a guitar and no talent, so, I put together a group of Punk-Rock. The ideal pastime for a teenager!
Where does your "stage name" and how your "career" started?
My real name is
Beat Zeller
Man,
I added "Reverend" in front because I'm Reverend.
It's like being a doctor, but since I am not one, I became the
Beat-Man
Reverend.
I started in a fairly conventional way: Going away from home, drink a lot of alcohol, play the guitar, getting drunk everyday and refuse to make every day a "normal" job. For me, making music was the only solution. I was a roadie for a band, and I also did the first parts. I made ​​up nearly 300 concerts in a year.I played a round, not to sleep in the toilet. Here's how my career started.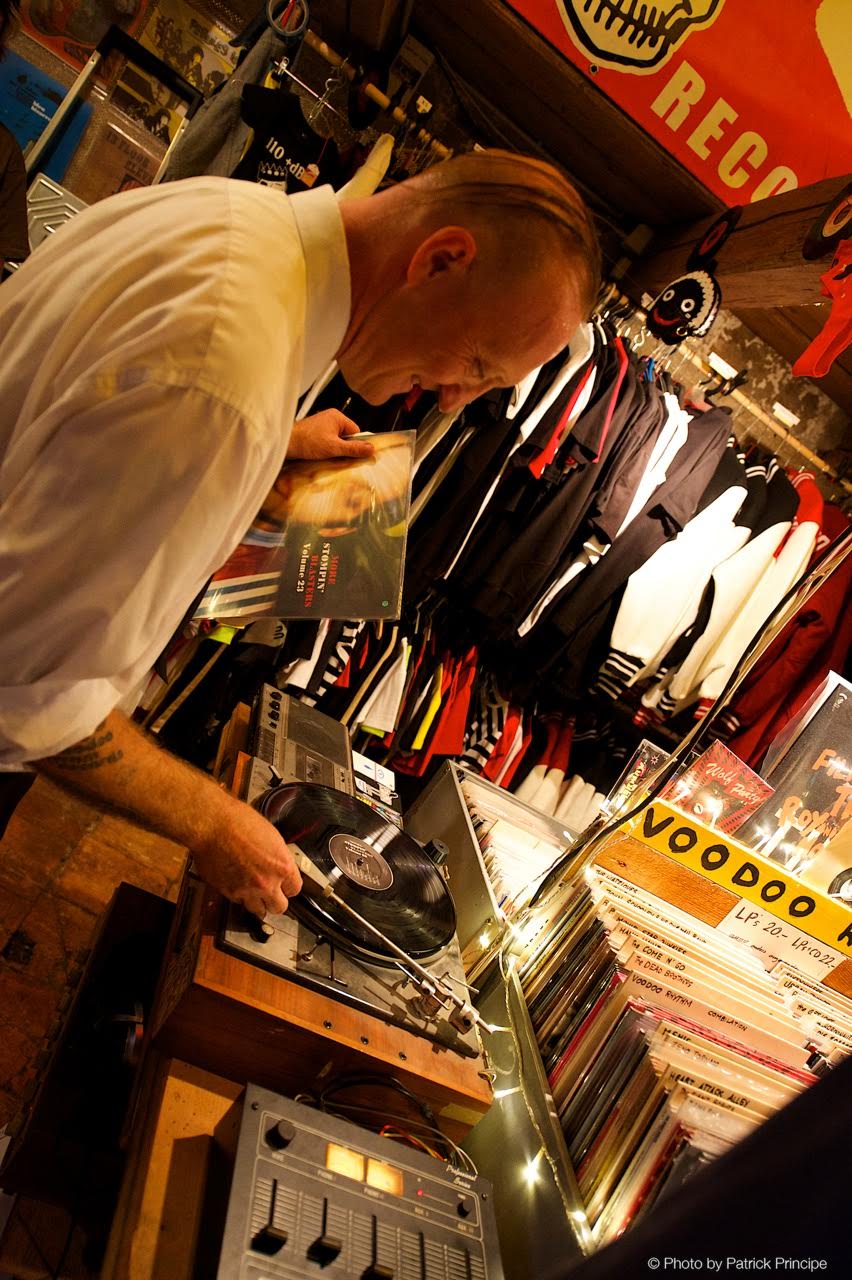 Beat Man
in his record shop in Bern, Switzerland (Photos:
Patrick Principle
©)
You're also at the head of a famous label (Voodoo Rhythm Records) for almost 30 years. How is the management of a label Rock 'n' Roll like yours in 2015?
I am a one-man band just as a one-man label. ... I do everything alone! But I am still help a handful of people (that I can not otherwise pay for decent). We live in Switzerland and here everything is super expensive. We export 90% of our production in Europe and in the world ... In short, my Gabriela manages counted ', I also have Lysander which deals with rights of artists / groups and also about six other people who work in my record store
There, one day of work is paid for by a disc of your choice in the store.
Label management is really tough, especially at the cash.

It is not out of Rock 'n' Roll "classic" is done in the strange music in the Rock 'n' Roll dirty, industrial music, Garage / Punk, Cumbia, Java Jazz etc ... It is definitely too weird to appeal to a traditional public but J'Peux tell you that managing this label is the best thing I've done

in my life.

We get so many great mails from people who sometimes come to our shop or at our shows, and we see in their eyes they did something that opens their mind.
At Voodoo Rhythm'll see a bit like a kind of natural drug for the brain. We are very proud of all that we go out.

I am a real pain in the ass for all groups that sign on the label, but I like to think at the level of writing and recording their securities, j

e

I push them up until their limits.

I want to get the best albums in the world. That is my goal!
When you're on stage. You prefer Formula One-Man-Band or play with a group (as with Monsters for example)?
Both are great. I really like both. It's like fucking on a table or in bed Both are great!
You are a true lover of Rock 'n' Roll, but I guess you're interested in also other music styles. What do we find in your personal disco?
Yeah of course, I listen to Hip-Hop, classical music, Electro, Rock 'n' Roll, Punk, the Trash, Soul, Ska, Death Metal, Grind Core, the Ambient, the Easy Listening, in Arabic or African music etc ... You know I am a true fan of music, and I think there is 99% of crap produced in all styles these days, you just have to find the remaining 1% that will return you!
Besides, what are you listening now? And what is the last record you bought?
Right now I listen Perro Agradecido, a group of Mexican Cumbia Psyche 'and the last record I bought this is an album of Rhythm Checkers home Groovie Records, a damn good French group in 1967. A sort of 13th Floor Elevator Garage!
You seem to me to travel a lot. What do you do during a day-off in a city?
I have no day off or holiday. But in principle, I get up very early to flea markets and thrift stores. In fact, I do the same thing when I'm home. I am a junkie flea market.
Copied from www.slowshow.fr